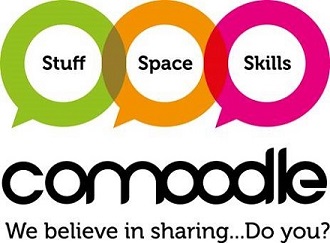 Comoodle Hammersmith and Fulham is now live!
What is Comoodle?
Comoodle is a programme that's all about sharing stuff, skills and space to support great community projects.
We are pleased to say it will soon be available to the people of Hammersmith & Fulham as the programme has been funded by Mayor of London and LBHF.
How it works
You make available whatever you like via the website
You have full control of the content that is yours and the terms of use
Requests come to you
You decide if the group asking for the items can have them.
Members can ask for any item that's on Comoodle. If what you want isn't there, you can post on the message boards. People can offer things for free. You can ask for a donation or charge set fees if you are a not-for-profit business or charity.
How do I get involved?
The Comoodle H&F home page is now live https://www.comoodle.com/h&f  so to get started, think about what stuff, space or skills you might be able to share.
To view / download What sort of stuff can I share or borrow?
To view more click here.
If you need to know more, just get in touch