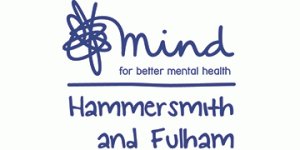 This is an excellent opportunity to be involved in a successful and forward-thinking charity that helps improve the lives of many people in Hammersmith & Fulham and beyond.
Hammersmith and Fulham Association for Mental Health (known as Hammersmith & Fulham Mind) is an leading independent mental health provider working with people living in the boroughs of Hammersmith & Fulham.
Our mission is to empower people with mental health problems to manage their health, take control of their lives and to support them to participate fully in their local community.
Our wide range of services reach and support over 2,000 people every year. We campaign for improved services and challenge the stigma and stereotypes surround mental health. We currently have 30 staff who work across a range of 18 services at Mind ranging from talking therapies to hoarding support groups.
We are looking for someone who is passionate about making a difference as a finance minded Trustee (Treasurer) of a small charity. We are looking for a qualified accountant with a strong track record in strategic and operational financial management to act as a key advisor to our team on all financial aspects of running the charity. The ideal candidate will have an interest in mental health and knowledge of current finance practice relevant to charities, as well as good financial analysis skills and the ability to communicate effectively across all levels of the charity.
The Trustee (Treasurer) will sit on the full board of Trustees as well as chairing the Finance Sub-Committee. This role will involve:
Overseeing the financial affairs of the organisation, ensuring they are in line with Hammersith & Fulham Mind's charitable objects and within accepted accounting practice
Monitoring the financial health of the organisation, including appraising the financial viability of plans and proposals
Making fellow trustees aware of their financial obligations and taking the lead in interpreting financial data to them
With support from the CEO and the Finance Manager, regularly reporting the organisation's financial position at committee meetings
Overseeing the CEO and the Finance Manager in the production of the annual budget, reforecast(s), management accounts, adherence to financial controls, etc.
Liaising with auditors
Trustee meetings are held approximately once a month (at 6.30pm – in Fulham or Notting Hill); in addition, the Finance Sub-Committee meets once every 2 months, alternately in Fulham, the City, or via conference call.
Trustees are asked to commit to volunteering with the charity for at least a year. You will join a board currently consisting of 8 Charity Trustees from various backgrounds and different experiences contributing unique and invaluable skills to the charity.
The application process will consist of an informal interview with the Chair and our acting Treasurer at a mutually convenient time.
For an informal discussion about the role, or to apply, please contact Claire Pettitt (Trustee & acting Treasurer): clairepettitt@cantab.net
Applications should include a covering letter and current CV.
Closing date for applications: Sunday 3rd April 2016
HFM is an equal opportunities employer and encourages applications from all sections of the community. We particularly encourage applications from individuals who have lived experience of mental health.
https://sobus.org.uk/wp-content/uploads/2021/05/Sobus-Logo-n.png
0
0
Sobus
https://sobus.org.uk/wp-content/uploads/2021/05/Sobus-Logo-n.png
Sobus
2016-03-19 11:08:53
2016-03-19 11:08:53
Hammersmith and Fulham Mind: Volunteer Trustee (Treasurer)