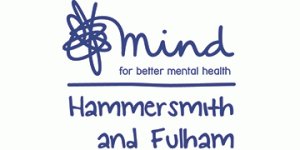 This is an excellent opportunity to be involved in a successful and forward-thinking charity that helps improve the lives of many people in Hammersmith & Fulham and beyond.
Hammersmith and Fulham Association for Mental Health (known as Hammersmith & Fulham Mind) is an leading independent mental health provider working with people living in the boroughs of Hammersmith & Fulham.
Our mission is to empower people with mental health problems to manage their health, take control of their lives and to support them to participate fully in their local community.
Our wide range of services reach and support over 2,000 people every year. We campaign for improved services and challenge the stigma and stereotypes surround mental health. We currently have 30 staff who work across a range of 18 services at Mind ranging from talking therapies to hoarding support groups.
We are seeking an outstanding media and communications specialist trustee who can support us in engaging media, clients and other stakeholders. The ideal candidate will be an innovative, creative individual committed to upholding the rights of mental health service users, with experience of development communications strategies and plans at a local level.
This role will involve acting as a key advisor to provide guidance on media and communications issues, helping our team to deliver an outstanding media and communications function by:
• Advising on ways to strengthen Hammersmith & Fulham Mind's public profile, magnify our communications reach and contribute to showing that we are outstanding leaders in mental health
• Assisting our managers in developing our communications strategy, defining clear messages that promote our priorities and identifying opportunities to set out the many positive stories we have to tell
• Highlighting risks and proposing appropriate action
Trustee meetings are held approximately once a month (at 6.30pm – in Fulham or Notting Hill). Trustees are asked to commit to volunteering with the charity for at least a year. You will join a board currently consisting of 8 Charity Trustees from various backgrounds and different experiences contributing unique and invaluable skills to the charity.
The application process will consist of an informal interview with the Chair and another Trustee at a mutually convenient time.
For an informal discussion about the role, or to apply, please contact Jane Bullen (Chair): jane.bullen4@btinternet.com
Applications should include a covering letter and current CV.
Closing date for applications: Sunday 3rd April 2016
HFM is an equal opportunities employer and encourages applications from all sections of the community. We particularly encourage applications from individuals who have lived experience of mental health.
https://sobus.org.uk/wp-content/uploads/2021/05/Sobus-Logo-n.png
0
0
Sobus
https://sobus.org.uk/wp-content/uploads/2021/05/Sobus-Logo-n.png
Sobus
2016-03-19 11:06:24
2016-03-19 11:06:24
Hammersmith and Fulham Mind: Volunteer Trustee (PR / Marketing)