National Day of Reflection 23rd March
The overall purpose of the Day of Reflection is twofold – to remember those we have lost during the pandemic, and also to pay tribute to the ongoing work of thousands of people, professionals and volunteers, who have supported us all during this time. Full information is available here.
A Minute of Silence at 12 noon which can be observed as a private moment or at your workplace or community. You can also join the Minute of Silence online from 11.50 where a short programme will include a specially written poem and the London Community Gospel Choir. (Register before the day.)
Wall of Reflection. A Wall of Reflection in your community is a place to share thoughts about those we have lost and those who continue to serve. You can display photos, poems, objects, music, stories, articles, hobbies or recipes – whatever feels right for you. A full guide is available to download and materials are available from any Marie Curie shop.
Tea and biscuits. This can either be in connection with a Wall of Reflection or as a stand-alone activity. This is simply an opportunity to bring people together in your community – maybe those who have lost loved ones, or just a gathering of people who would like to reflect on the experience of these two years.
You can add your local activities to the national activity map by completing the online form here (where you can indicate whether your event is private or public).
A full day of online activities – to participate in any or all of these you should register in advance.
7.00-9.00pm. Coming Together in Hope; A National Service of Reflection for Black Communities affected by Covid 19 pandemic. This is a Christian service to which everyone is invited. The service takes place in person in Birmingham and is co-organised by London-based Ubele Initiative. To attend in person register here. To view via a livestream on Youtube use this link which will go live on the day. Ubele are also planning an evening event at the Conway Hall in London – if you are interested please contact us and we will send details as soon as we have them.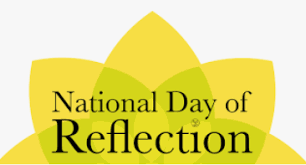 https://sobus.org.uk/wp-content/uploads/2022/03/National-Day-of-REflection.png
165
306
Michelle Manswell
https://sobus.org.uk/wp-content/uploads/2021/05/Sobus-Logo-n.png
Michelle Manswell
2022-03-15 12:18:12
2022-03-25 11:52:05
London Faiths Forum