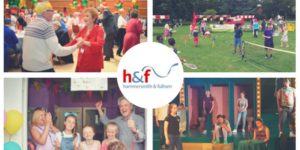 Want to enhance your neighbourhood? Do you have an idea that will help your community?
The Hammersmith & Fulham Hive offers a new and creative way for the community to shape the borough through crowdfunded projects.
From community gardens to pop-up markets and festivals to art installations, if you have a project idea that will make your local area better then get involved.
Join crowdfunding platform Spacehive for a workshop at St Paul's Hammersmith, where you will have the chance to develop your ideas and learn about how you can access additional funding avaliable from Hammersmith & Fulham council and other Spacehive partners, including GLL and the Mayor of London.
For the next funding round (deadline 30th September), The Young Hammersmith & Fulham Foundation will also be offering pledges of up to £1,000 to projects that benefit young people (0-25) in the borough, so all the more reason to come along on the day and find out more.
Register now to secure your free place, and fill out this project idea form so Spacehive can feedback on your idea. Whether this is your first time creating a project or you're a seasoned community organiser, this event will tell you everything you need to know to join in and have the best chance off hitting your target.
If you have any questions about this event please contact info@spacehive.com.
Thu, 25 July 2019 between 14:30 – 16:30
St Paul's Church, Queen Caroline Street, Hammersmith, London, W6 9PJ
https://sobus.org.uk/wp-content/uploads/2021/05/Sobus-Logo-n.png
0
0
Oumayma Tuijri
https://sobus.org.uk/wp-content/uploads/2021/05/Sobus-Logo-n.png
Oumayma Tuijri
2019-06-28 15:44:46
2019-06-28 15:44:46
Hammersmith & Fulham Hive – Crowdfunding Workshop