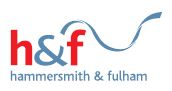 Residents, schools and community groups are being encouraged to host a 'play street' to mark World Car-Free Day next month.
Play Streets involve residents closing off their road for a few hours on a chosen day, so that children can play freely without the fear of traffic.
To mark World Car-Free Day, H&F Council will be hosting a 'Car-Free Festival' with events taking place on Friday 21 September and Saturday 22 September.
Click Here to see the full post on the LBH&F website
Click here for more information about World Car-Free Day