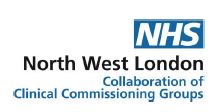 The NHS across North West London has launched a campaign to encourage everyone to feel happier and healthier by making a #MyJanuary pledge.
The campaign is being supported by health and fitness guru Louise Thompson from Made and Chelsea and Vas J Morgan cast member of The Only Way is Essex, who has recently been open in talking about his mental health.
Small steps can really help improve your physical and mental wellbeing. The start of the year tends to be the time that most of us start thinking about how we can better look after ourselves, and making a pledge helps set you up for the year ahead.
Louise Thompson said: "This January I'm giving up alcohol. In the past alcohol has had a detrimental effect on both my mental and physical wellbeing so I am aiming to cut back in 2019 – I'm testing my willpower by staying dry throughout January. In the past when I've stopped drinking for a sustained period of time I've noticed big changes in my mind and my waistline. I'm supporting the #MyJanuary campaign because I want to help encourage others to think about what positive changes they can make in their lives, whether it's going to the gym an extra day a week or quitting smoking. I urge you to consider it!"
Vas J Morgan said: "This January I'm pledging to be kinder to myself and more aware of my thoughts. In the past I have suffered with anxiety and insecurities which I had a really bad habit of keeping to myself. I've found that opening up and speaking to people that love and care about me truly helps the most. We often don't realise how powerful our thoughts are. It's so easy to focus on what's going wrong in your day, week or life. Instead try and find at least one thing that went right and focus your energy on that. Small steps such as this can really help invite positivity into your life."
Food for thought….
Stopping smoking, improving diet, increasing physical activity, losing weight and reducing alcohol consumption all help people to live well for longer
six of the eight boroughs in North West London have higher harmful drinking rates than the London average
in 2016 Healthwatch England named mental health as one of the public's biggest concerns.
It isn't unusual to return to work feeling gloomy after all the December festivities. The bills roll in from all those generous gifts and parties over Christmas, oh and not to mention the cold, dark, and dreary weather. Have a think about what you can do to make yourself feel happier and healthier this January.
Join in!
Are you attempting dry January? Eating healthier? Exercising more? Getting more sleep? Stopping smoking? Whatever you are doing, tell us what actions you are taking to improve your health for the year ahead as we combat the New Year blues.
Share your pledge on social media – you can find us on Twitter @Healthiernwl or Facebook NHS Stay Well. Just use #MyJanuary to spread the word and help encourage others.
For media enquiries, email ayesha.baker@nhs.net.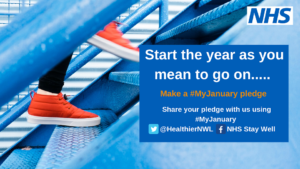 https://sobus.org.uk/wp-content/uploads/2021/05/Sobus-Logo-n.png
0
0
Sobus
https://sobus.org.uk/wp-content/uploads/2021/05/Sobus-Logo-n.png
Sobus
2019-01-22 10:07:45
2019-01-22 10:07:45
What are you doing this month to get back to a healthier you?