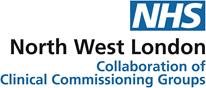 The NHS across North West London is today launching a new mum and baby app – a personal guide for pregnancy, birth and beyond.
The app was developed by mums, midwives and doctors in North West London and charity CW+ to provide women with a single source of trusted NHS information for all their maternity needs.
From the start of pregnancy to early parenthood, this app will support women and their families with:
Choice on where in North West London they would like to give birth and how they would like their birth to go
access to essential information every step of the way from being pregnant, to giving birth and looking after a new baby
personalised plans for their care during pregnancy, birth and beyond.
Leo Mead who lives in Ealing and is expecting her first baby in December said:
"I really like the app, the fact that all the information provided is from the NHS makes it feel very comforting. I never knew there was so much to know and this app helps to keep it all in one place. Being able to note my thoughts, questions and feelings also means it's easier to remember things I want to discuss when I have appointments with my midwife." 
The app aims to improve women's experiences of maternity care and ensures that the information they receive is consistent no matter where they choose to give birth in the local area.
Professor Jacqueline Dunkley-Bent, Head of Maternity, Children and Young People for NHS England, said: "This new app shows what is possible when we embrace modern technology. It now also means that we are able to offer personal care to women and their families in North West London by ensuring they can access information quickly and easily which will help give women and clinicians their valuable time back'.
Baroness Julia Cumberlege, Chair of the National Maternity Review, 'Better Births', said: "The mum & baby app shows how we can harness digital technology to deliver innovation in the NHS. This maternity app supports women and families to understand their choices, especially around choosing their place of birth, which pregnant women have told us how important this is to them."
"The NHS in North West London have shown the potential of 'digital' to enhance services which deliver choice and personalisation to women, and empowers women to make shared decisions and manage their own care throughout their pregnancy, birth and beyond."
Doctor Sunita Sharma, Consultant Obstetrician from Chelsea and Westminster Hospital NHS Foundation Trust said: "The North West London mum and baby app represents an innovative way in which these local maternity services have come together to provide women and their families with consistent NHS information on how to look after themselves and their babies in an easily accessible format. I think this is great step forward for our maternity services."
 Download it!
This helpful new app is available for download on both Apple and Android just go to your app store and search 'mum and baby'.
Ask us anything!
If there is anything you are unsure about or you have a question that you haven't been able to ask your midwife, ask us!
Post questions on Twitter with #askthemidwifenwl
Ayesha Baker
Communications Manager
North West London Communications Team
North West London Collaboration of Clinical Commissioning Groups
2nd floor, 15 Marylebone Rd, London, NW1 5JD
email: ayesha.baker@nhs.net
Direct line: 020 3350 4639
Mobile: 0773 3484 891
web: www.healthiernorthwestlondon.nhs.uk
twitter: @HealthierNWL
https://sobus.org.uk/wp-content/uploads/2021/05/Sobus-Logo-n.png
0
0
Sobus
https://sobus.org.uk/wp-content/uploads/2021/05/Sobus-Logo-n.png
Sobus
2018-11-21 12:59:48
2018-11-29 12:19:19
Pregnant? There's an app for that!