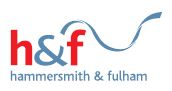 This post has been updated and republished as the date for the Hackathon has moved!  We want to galvanise the right key people in our effort to end rough sleeping in H&F, so are making sure the date is as inclusive as possible.
Cllr Sue Fennimore, the Deputy Leader of Hammersmith & Fulham Council would like to invite you to an event about Rough Sleeping in H&F on Thursday 6/12/18 from 2.45 – 5pm in the Town Hall Courtyard Room.
Please sign up via  the Eventbrite link found here . Pass on to any volunteers and colleagues who are interested in supporting the cause and make sure to get them to sign up via Eventbrite also.
We are calling it a Hackathon – which is about bringing together people from all walks of like  to help find innovative ways of ending rough sleeping in Hammersmith & Fulham.
You will probably know that in 2017 H&F set up an independent Rough Sleeping Commission to make recommendations about ending rough sleeping in H&F. We don't think anyone should have to sleep rough and are committed to ending rough sleeping in the borough.
We can't do this without your involvement.  Your expertise and ideas will be key in helping to find solutions to end rough sleeping.
We want the event to be lively and energetic and we'd like you bring your staff, volunteers and residents who have experience of homelessness in H&F. We will send you some publicity information shortly to help you publicise the event in your organisation. There will be light refreshments available.
Please can you let Rebecca Richardson know if you would like to attend and approximately how many people from your organisation will be attending by contacting her at rebecca.richardson@lbhf.gov.uk or calling on 07827879659   .
We really look forward to seeing you on 20/11/18. Help us end rough sleeping in H&F.
Julia Copeland
Strategic commissioner
Public services reform
Hammersmith & Fulham Council
https://sobus.org.uk/wp-content/uploads/2021/05/Sobus-Logo-n.png
0
0
Sobus
https://sobus.org.uk/wp-content/uploads/2021/05/Sobus-Logo-n.png
Sobus
2018-11-28 10:40:38
2018-11-28 11:17:21
Help us end Rough Sleeping in Hammersmith and Fulham