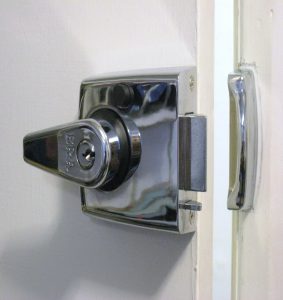 Did you know that last year 955 homes in Hammersmith and Fulham were burgled?
FREE HOME SAFETY, SECURITY AND FIRE SAFETY CHECKS
Bishop Creighton House can carry out free home security, home safety and fire safety checks in your home.  If any additional security equipment is needed we can supply and fit this for a fee of £10 (free to those receiving benefits).
This service is for people aged over 65, those with a disability and victims of hate crime, burglary and domestic violence who live in H&F.
All our staff are fully trained and DBS checked.
FREE FIRE ASSESMENT AND FLAME RETARDANT BEDDING
If you are concerned about a client who smokes in bed, then we can carry out a FREE fire safety assessment. We also provide FREE smoke alarms, flame retardant bedding and deep ashtrays as well as advice about smoking.
SUBSIDISED DRAUGHT PROOFING
We are providing a draught proofing service in time for the cold winter months. The following charges include labor and materials
External doors (3 sides) £5
Internal or external door brushes £5
Letter boxes £5
Windows £5
To find out more or request a referral form
020 7385 9689 option 2 for Safer Homes                                                                 
https://sobus.org.uk/wp-content/uploads/2021/05/Sobus-Logo-n.png
0
0
Sobus
https://sobus.org.uk/wp-content/uploads/2021/05/Sobus-Logo-n.png
Sobus
2016-10-11 15:36:48
2016-10-11 15:36:48
Safer Homes Services Information