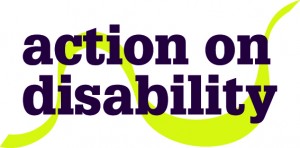 AoD has moved offices – just one mile but a whole world away. We have a newly refurbished office on Lillie Road. We have improved access, better transport connections and chickens as neighbours!
Our new address is Action on Disability, c/o Normand Croft School, Lillie Road, London SW6 7SR and our new phone number is 020 7381 2042. The move didn't go quite as smoothly as we'd hoped so please bear with us if we are a bit slow to respond.
We are now based in a completely inclusive site – we are tenants of a primary school. We also share the building with Adult Education and an offshoot of the NHS. Our front entrance is right by a bus stop and we are wholly based on the ground floor.
We will have a formal 'office warming' soon and we hope many of our local colleagues will either be able to attend that or pop over the coming months.
The happy laughter (shouts and screams!) of the school children is our new background music. And when anything gets us down or frustrated, we have the school's five chickens to talk to. They are very understanding.
Proper signage, publicity etc is all in the pipeline but please see our website and pictures below for a view of our new home.
All at AoD
More information:
http://www.actionondisability.org.uk
https://sobus.org.uk/wp-content/uploads/2021/05/Sobus-Logo-n.png
0
0
Sobus
https://sobus.org.uk/wp-content/uploads/2021/05/Sobus-Logo-n.png
Sobus
2016-09-21 12:15:17
2016-09-21 12:15:17
Action on Disability has relocated