This autumn WLZ 'goes live' in White City, the neighbourhood where we're piloting our model in 2015-16. Our first delivery partnership is in place, we have appointed our first three Link Workers, and we have almost identified the full cohort of children and young people we'll be supporting. It's a deliberately slow and gradual start but we're delighted to be in 'delivery' mode at last. This Update will fill you in on our progress.
Anchors & delivery
WLZ works through our 'anchor' organisations – children's centres, schools and youth settings. At the start of the summer we signed up our first four anchors in White City: Randolph Beresford Years Centre, Ark Swift Primary School, Phoenix High School and OC West Youth Club.
Since the start of the school term we've been working with staff at each anchor to identify the cohort of children and young people with the mix of strengths and needs which means they're most likely to benefit from the support of WLZ.
Alongside this identification work, we have been in detailed discussions with 10 or so delivery organisations about possible support during this pilot year, depending on the final assessment of the cohort. We hope to conclude agreements with some of them in the coming weeks. We have already started work with one of these organisations, Music House for Children, which supports children in Randolph Beresford with music classes for communication development. We are working together on an evaluation of the outcomes for individual children as a result of these classes.
Link Workers
As the diagram shows, central to the WLZ model is the role of the Link Worker – the key professional who liaises on behalf of a child or young person between the anchor organisations, support provided by our Delivery Partners and the WLZ backbone, and maintains contact with their parents and the trusted adults in their lives.
Over the summer WLZ recruited two more Link Workers to join our Head Link Worker Rahel Goenner. This blog from our Chief Operations Officer Louisa Mitchell introduces the three Link Workers and explains how they will work.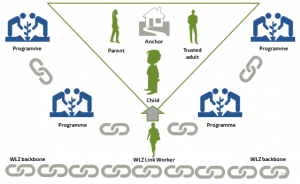 Funding and the Collective Impact Bond
The WLZ pilot year – academic year 2015-16 – is funded through philanthropy. Over the summer we were pleased to receive support from a trust funder and a major corporate supporter, who join John Lyon's Charity and our private donors as the people making WLZ possible.
There will always be a significant philanthropic element to our finance model. However, our long-term vision is that WLZ becomes sustainable through an innovative model of social finance, blending public spending with private capital. We aim to bring together multiple commissioners and investors to support the delivery of a range of improved outcomes for individual children in the areas of well being, learning and character. These cut across multiple public policy areas from education to health to welfare and criminal justice.
We call this model a Collective Impact Bond because of the diversity of investors, commissioners and delivery organisations required to come together with WLZ to make it happen.
A Steering Group comprising local organisations and commissioners has been meeting throughout the spring and summer to design the CIB, with support from BWB Advisory and the Big Lottery Commissioning Better Outcomes Fund. We are in the final stages of design for this new model and look forward to putting it in front of commissioners in local and national government over the winter, and reaching out to investors in the new year.
This blog from our Chief Development Officer Nigel Ball explains the outcomes we intend to pursue with the CIB. We were also part of a submission to the Government led by Big Society Capital, which you can read about here.
Running WLZ
As WLZ moves into the Delivery phase we've restructured the roles of senior staff and the line management of the team. You can read about the new structure in a blog from our Chief Executive Danny Kruger. At the same time we're actively building our board of trustees, with some exciting candidates agreeing to join and a range of conversations going on to recruit more. We look forward to unveiling our new board shortly.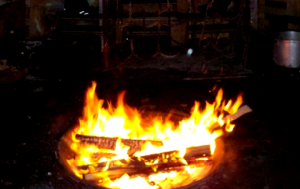 Campfire
WLZ is planning a semi-regular series of evening events for parents and young people participating in the project, the professionals who work with them as well as other local residents. Intended as storytelling sessions for people living and working in White City, these will take place around a campfire in the White City Adventure Playground, and we'll have food and music. We want to start small (and certainly not swamp it with professionals, which is why we're not inviting you all to come!) and see how it grows with the project.
Data analytics
Over the summer, new national datasets on deprivation and poverty were released and we have analysed the information to show what has changed in the Zone since 2010. What the new information tells us is that levels of deprivation are improving; that inequality remains severe; and that the area experiences significant population movement in and out each year. You can see the full analysis including heat maps of the area here.
https://sobus.org.uk/wp-content/uploads/2021/05/Sobus-Logo-n.png
0
0
Sobus
https://sobus.org.uk/wp-content/uploads/2021/05/Sobus-Logo-n.png
Sobus
2015-11-06 11:54:06
2015-11-06 11:58:19
West London Zone: Updates