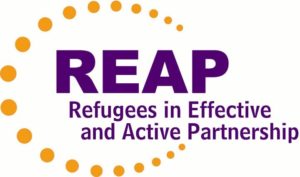 A refugees and support networking conference in West London Thurs 4th July 2019
Venue – Botwell Green Parish Centre/Hall, Botwell Lane, Hayes UB3 2AB
An event for refugee support, equality, migrant, voice, welcome/voluntary, community, faith and statutory bodies who support asylum seekers and refugees as they rebuild their lives.
The format of the day is short introductions and a mix of up to 12 themed and stand-alone workshops, designed to help people share knowledge, views and ideas, to strengthen connections across West London and help us find opportunities to support refugees better.
*Workshops themes will be based on REAP's priority action campaigns, as we try to get refugees' voices heard in practical, practice and policy making to improve services and support for refugee across West London and further:
  Refugees for Equality: Defending people's right to meaningful refuge.  2019 GP registration.
  Access to English: 'Speakers and Story-Tellers' – Mayor of London-funded project, Using English with confidence. Diverse Pathways – something for everyone.
  NHS use of interpreters: Understanding lived experiences; Awareness and standards in commissioning and delivery – testing lessons from community research
  Young refugees and their mental health and wellbeing: Children and Young People's organisations expand their expertise to support young refugees.
  Refugees at Home: Homelessness, housing – belonging and wellbeing in London.  Building holistic support networks.  2019  Get Settled Status! – Brexit and EU Refugees
Click here to view/download a leaflet.
https://sobus.org.uk/wp-content/uploads/2021/05/Sobus-Logo-n.png
0
0
Oumayma Tuijri
https://sobus.org.uk/wp-content/uploads/2021/05/Sobus-Logo-n.png
Oumayma Tuijri
2019-07-02 16:09:40
2019-07-02 16:09:40
Making Refuge Real in West London