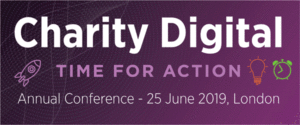 Tueday 25 June 2019, London
How many years? How many conferences? How many more 20 somethings in tortoiseshell glasses will stand up to tell you how you're doing your job wrong?
So that you can start taking action, we'll tell you how it is and grapple with the challenges.
We'll talk: finding the cash, digital on a budget, learning from digital disasters, understanding the risks and separating facts from fearmongering.
Action is what this event is about.
We've invited leaders to share honestly and openly their experiences and advice to support your charity in moving forward with digital.
This event is for the do-ers, this is for the people who want to make it happen.
Download full event brochure or see who's speaking.
For one day, we'll focus on the following themes:
Big impact against the odds
Anti-social media – How to go guerilla on social media
Honest hour – Digital disasters and what we learnt
Being smart with digital
Cyber security & GDPR – Separating the facts from the fearmongering
Pioneering digital
Building leadership before building tech
Preparing yourself for the best digital funding bid application
Changemakers – Behaviours to inspire a change in culture
Service users building charities in a digital world
Looking to the future
How the civil society strategy can change your digital strategy
Charity seeking digital innovator with GSOH
Future tech trends
Ask a digital native what makes them care
Click here to see full post on website.
https://sobus.org.uk/wp-content/uploads/2021/05/Sobus-Logo-n.png
0
0
Oumayma Tuijri
https://sobus.org.uk/wp-content/uploads/2021/05/Sobus-Logo-n.png
Oumayma Tuijri
2019-05-12 14:51:46
2019-05-12 14:51:46
Charity Digital Conference: Time for Action