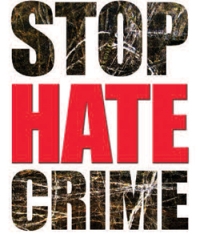 Hate Crime is on the increase in Hammersmith & Fulham. The Hate Crime West London Support Service is there to support victims of hate crime report it and get support to cope with its impact. Between 2014 and 2015 the following increases in hate crime were reported to the Police in Hammersmith & Fulham:
Islamophobic hate crime up from 2 crimes to 6 crimes
Homophobic hate crime up from 2 crime to 3 crimes
Racist and religious hate crime up from 25 to 27 crimes
Not all hate crime is reported so these figures are not the full picture and the service aims to support people to report hate crime.
HFVC is hosting a drop-in information session in partnership with MOPAC and Hate Crime West London. This session aims to give voluntary sector organisations an overview of what hate crime is, how to identify it and how to refer clients who are victim to it. The sessions will be led by anti-hate crime experts Farah Ul-Haque and Irfan Arif of Ealing Equality Council. The event will take place:
Friday 11th March 2016 at 10am to 11:30am
at White City Community Centre, India Way, London W12 7QT
There is no need to book. Please just turn up.
If you are unable to attend but would like to know more, please see the leaflet here. If you are aware of clients experiencing hate crime please make contact with the service who will be happy to discuss how they can help.
For event information, please contact enquiries@hfvc.org.uk .
For hate crime support, please phone 0800 246 1207, email contact@hatecrimeWL.org.uk, website www.hatecrimeWL.org.uk, or Twitter @HateCrimeWL. In an emergency call 999.
Full link to information leaflet about Hate Crime West London:
https://drive.google.com/file/d/0BwqU3NA_sdEJWEY3VG5IUFp3YWc/view?usp=sharing
https://sobus.org.uk/wp-content/uploads/2021/05/Sobus-Logo-n.png
0
0
Sobus
https://sobus.org.uk/wp-content/uploads/2021/05/Sobus-Logo-n.png
Sobus
2016-03-09 15:38:31
2016-03-09 15:38:31
Tackling Hate Crime