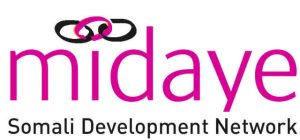 Midaye Somali Development Network has clearly defined goals to provide community services to the Somali and broader community who reside in the Royal Borough of Kensington and Chelsea. Our users have a strong influence in how the charity is delivered.
Midaye aim is to:
Provide Supplementary education to mothers and children and help them overcome main obstacles to integrate fully with the rest of society.
• Provide facilities for recreation and leisure
• Give information and advice to clients and members that will enable them to become better informed and access other services
• Enable clients and members to make a contribution and assist in the planning and delivery of key services
• Supporting the involvement of volunteers and paid staff to become productive in the organisation
• To liaise with other organisations who have the same purpose as our own and to work with organisations who would increase the capacity, and the life of the association.
See more on the website: www.midaye.org.uk

Address: 7 Thorpe Close London, W10 5XL
Phone: 0208 9697456
Opening Hours:
Monday: 10am–5pm
Tuesday: 10am–5pm
Wednesday: 10am–5pm
Thursday: 10am–5pm
Friday: 10am–5pm
Saturday: Closed
Sunday: Closed
Closest Buses:
7 23 52 70 228 295 452
Closest Tube Station:
Ladbroke Groove (Hammersmith and City Line, Circle Line) [2 min]